Aalborg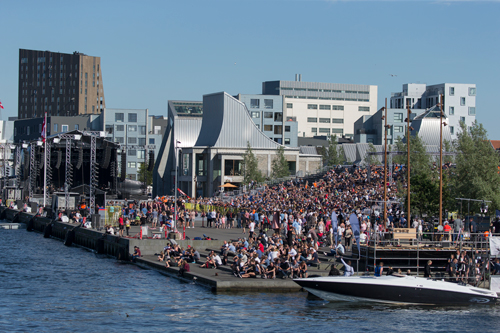 When visiting Aalborg you will experience a plethora of culture, sports and recreation. From the cultural hub in the city's old power plant, Nordkraft, to the beautiful surroundings along the Limfjord there is never a dull moment.
Aalborg is ideally situated by the Limfjord, which creates a natural gathering point for the people in Aalborg. The city in general and the harbour front is full of people recreational areas and parks where you can enjoy the view or hang out with friends and family.
It is in close proximity to the city centre where you will find everything from shopping, great restaurants and a hopping bar scene.
Aalborg has a long and great sports tradition. We take pride in both our elite teams but also in the many citizens of Aalborg who are members of one of the many local sports clubs, not only to practice sports but also to enjoy the community spirit they can experience there.
Aalborg has successfully hosted a number of large events among other the DGI Sports Festival, The Tall Ships Races and the European Company Sports Games where the city is used in a number of different ways. The many parks and open squares can be used with different purposes where they previously have been used for concerts and a variety of sport activities.
Aalborg is also the largest city in North Denmark and it is easy to get to the entire region with either bus or train. You can visit beautiful beaches or go to Skagen, the northernmost point in Denmark where the two seas, Kattegat and the North Sea meet.